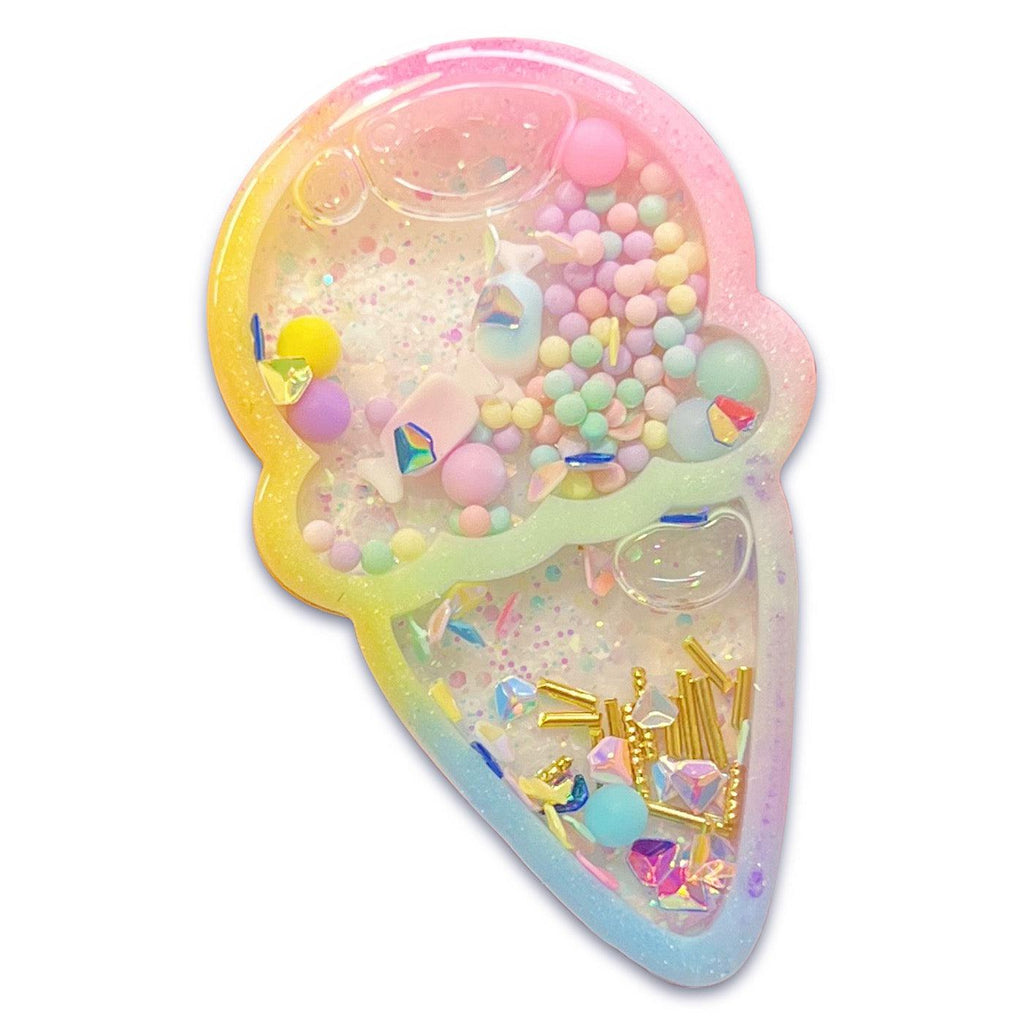 Resin Ice Cream Cone Liquid Resin Shaker
$14.00
These no slip liquid resin  hair clips are colorful, fun, and sure to bring smiles from everyone. A unique, one of a kind, special gift for the holiday seasons, birthdays, and even just for fun. Do we actually need an occasion to give sweet (yep, I went there, lol) gifts that will bring joy? 
The Ice Cream Cone Liquid Resin Shaker measures approximately 2 1/4" and is available on a no slip hair clip, pin, magnet, or ponytail holder. Make sure to turn your liquid shaker to see that there are some special details floating inside the shaker.
Resin liquid shakers are different from our puffed vinyl pouch shakers that have confetti and air inside. Resin liquid shakers are resin cavities (which I make from my resin molds) filled with confetti and other embellishments and liquid (usually baby oil). The cavity is covered with a protective film and a layer of resin on top of that. You may notice a covered hole somewhere along the outer edge, which is where I drilled the hole to insert the baby oil and then sealed it. Please leave that spot alone to make sure everything stays in tact. Watch the confetti and embellishments move when the shaker is being turned! Resin liquid shakers are a true labor of love with many steps involved to create a unique resin item for you. 
(Due to the labor intensive process, costs of materials, and health risks involved with resin art, percentage-off discount codes will not apply to this item)
***ALLERGY WARNING: Liquid latex may be used in the process of making resin liquid shakers (during the top coat process to protect the underneath and sides). The latex is removed at the end, but if you have an allergy, I want you to be aware of possible traces.***
*Please note that resin items are handmade, hand painted (those that need painting), and are made through a process that takes up to 3 days to create. Due to the nature of handmade resin art, no piece is identical and it could have slight imperfections. Please understand that handmade items are not 100% perfect.
A note from Moo G Clips:
While we take great care in the assembly of our products, some of our clips may contain small pieces and some are small pieces themselves. Please supervise small children at all times while using our products. Moo G Clips also suggests taking off any clips and/or bands before nap time and bed time. Moo G Clips are not waterproof and should be handled gently. By purchasing Moo G Clips' products, the purchaser takes all risks associated with these items and Moo G Clips is not held liable.